Tulin, literally means earth forest, is a natural landscape composed of earth columns or pillars forming like immense forest. The unique landscape was formed by geological movement and soil erosion one or two million years ago. It is named for its shape like immense forest and the main composition of the expansion earth.There are three scenic areas, which are Wumao Earth Forest, Langbapu Earth Forest and Banguo Earth Forest. Wumao and Langbapu have been developed as scenic areas. Yuanmou Earth Forest has been more and more popular these years.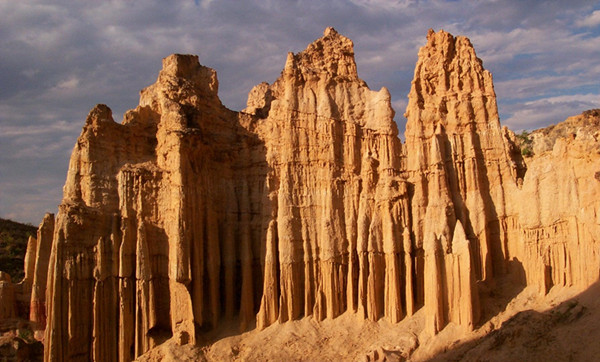 Entrance Ticket
Wumao Earth Forest: CNY80
Langbapu Earth Forest: CNY70
Through ticket for both Wumao and Langbapu Earth Forest: CNY100
How to get to Yuanmou from Kunming
Trains are available from Kunming to Yuanmou. It takes about 3 or 4 hours in a fast train.
Book a train ticket.
Long-distance buses are available departing from Kunming Northwest Bus Station.
How to get to the attractions
It is very convenient to get to Wumao Earth Forest. There are several buses travelling between Wumao Earth Forest and the bus station. However, there are only one or two buses travelling to Langbapu Earth Forest.
If you would like to visit both of the earth forests in one day, it's best to rent a car. The best time to photograph is in afternoon, maybe after 4 pm.
Note:
The sunlight is strong there, don't forget to use sunscreen cream.
The temperature of Yuanmou is usually higher than in Kunming and varies greatly between day and night.
The scenic area is large. Follow the route map and walkways.
Bring enough water because the air is dry in the area. There are few food store in the scenic area.