Chinese Lunch& Dinner
In the morning, you will be picked up from railway station or airport then be driven directly to Xilamuren Grassland. After crossing the main vein of Mount Yinshan——Daqingshan Mountain and passing the old revolutionary base——Wuchang County,you will arrive there.
For lunch, you can taste Mongolian flavor——hand-grasping meat. Both Mongolian girls and boys will present you with the white Hada,a Mongolian-style gift representing the sincere welcome.
In the afternoon, you will visit the herdsmen's home then you can have a deep insight into the sedentary lifestyle and enjoy the Mongolian flavor milk and dairy food. After that,you will go to the Mongolian festival shrines——Aobao Hill.
In the evening, you can stay at Yurt or return to downtown to stay in hotels if temperature is below zero degree at night at the end of October.
Hotel Options:
Zhaojun Hotel
Holiday Inn Hotel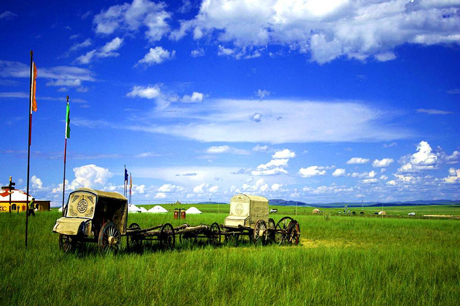 Xilamuren Grassland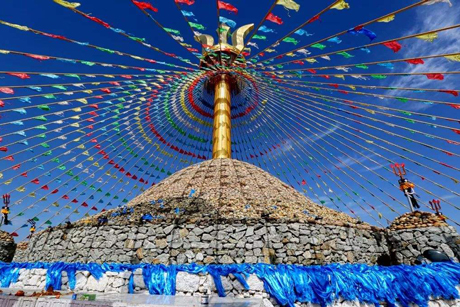 Aobao
Xilamuren grassland: Xilamuren, meaning "yellow river" in Mongolian, is located 100 kilometers north of Hohhot. Xilamuren Prairie, commonly known as Taihe, got its name from the Puhui Temple, a Lama temple built in the Qing Dynasty near the Xilamuren River. Constructed in 1769 during the reign of Emperor Qianlong, Puhui Temple was initially a resort of the Sixth Panchen Lama of Xilitu of Huhhot. With engraved beams and pictured purlins, the temple appears quite splendid.Xilamuren Prairie, a typical example on the plateau, is covered by green grass and fresh flowers every summer and autumn. Due to the continual investment of the local government, reception service is growing better and better. Thus, Xilamuren has become a popular scenic spot in Inner Mongolia.
Ao Bao: The most common and grand sacrificial activity of the Mongolians is the sacrificing of Aobao. Aobao means heaps of stones. Aobao is normally set up in hills and mountains, it is a cone-shaped solid tower made of stone.A long pole is inserted on the top, fur or animal skin and cloth ribbons are tied on the pole end, rocks for incense are placed around.Sacrificing of Aobao is mostly held in each June, July and August. When sacrificing, the worshipper will take Hadas,mutton, fermented milk and dairy food to the Aobao. Hadas and sacrifices will be presented firstly and Lamas will chant Buddhist scriptures and the other people will worship on bended knees. Then, they will add stone or wicker to the Aobao covered with colorful silk strips and Sutra streamers. After the sacrifice, such activities as horse races, wrestling and archery will be held, the event later developed into a Nadamu meeting.