China's legal currency is Renminbi (RMB), officially CNY (China Yuan). Its symbol: ¥; Monetary unit: Yuan (元) and Fractional units: Jiao (角) and Fen (分).
1 Yuan  = 10 Jiao
10 Jiao = 10 Fen
Remark: Colloquially in Chinese, the Yuan is often called kuai, and the Jiao is called mao.
Currently China Money in use is China's fifth edition of Chinese currency ( 1999 – 2005) circulating from 1999.
The paper money in is 100 Yuan, 50 Yuan, 20 Yuan, 10 Yuan, 5 Yuan, 1 Yuan, 5 Jiao and 1 Jiao.
The coin in is 1 Yuan, 5 Jiao, 1 Jiao, 5 Fen, 2 Fen and 1 Fen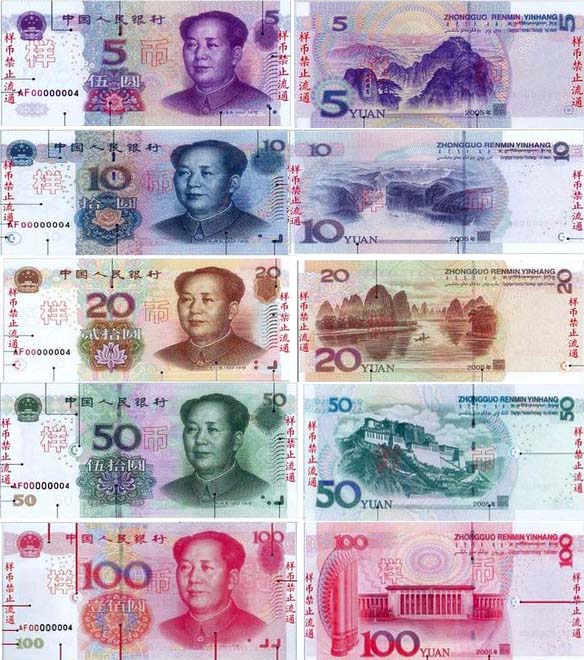 You can exchange traveler's checks or cash at most banks, and hotels always have a money exchange counter. You can also get a cash advance on your American Express card, but for this you need to go to the Bank of China headquarters at Fuchengmen or Bank of China Beijing Branch at Chaoyangmen or the one at your nearest branch of Bank of China.
How to identify fake money
It is possible to receive counterfeit money while traveling China. So it is advisable to know to how to identify the fake money.
1. Check the watermark
The fifth edition of Chinese currency has a watermark on the left front side. You can easily recognize it against the light.
2. Check the security line
There is a golden security line in the middle of RMB100, RMB50, RMB20, RMB10 and RMB5.
3. Check the color and quality
The color of RMB notes is hard to imitate, and counterfeit bills are usually too fuzzy, that is, the images and colors are not so sharp.