Guilin Liangjiang International Airport (IATA: KWL 桂林两江国际机场)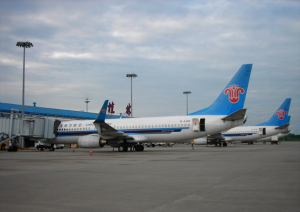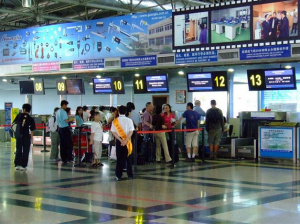 Book cheap flighs (from or to Guilin)
Guilin Liangjiang International Airport (IATA: KWL) is the airport serving the city of Guilin in Guangxi Zhuang Autonomous Region, China. It is located in Liangjiang, about 28 km (17 mi) southwest of the city center.
Facilities:
1. Business Center: between the exits of domestic arrival and international arrival, the center offers the service of fax, print and internet.
2. Police Station: on the right side of the security inspection passageway of the departure hall on the second floor of the terminal building.
3. Restaurants: The opening hours of these restaurants and cafes are from 07:00 to the last flight.
Airport Transportation:
1. Taxi: the local flat rate fare of taxis is about CNY7 for the first 2 kilometers (about 1.2 miles), then the distance surcharge is about 1.6 Yuan to CNY2 per km.
2. Airport Bus: after every flight arrival, there will be a bus waiting at the exit of the arrival hall leaving for the downtown area. Also passengers can take the bus at Civil Aviation Mansion from 06:30 to 20:00 from the downtown area to the airport.
(Passengers reaching Guilin Railway Station by bullet trains can take free shuttle buses to Civil Aviation Mansion in front of the Ticket Office with their valid train tickets. The free shuttle buses are at 09:30, 10:30, 11:00, 12:00, 14:00, 16:30, 18:00, 19:00 and 20:40.)
Service:
Lost and Found:0773-2845338
Luggage Inquiring: 0773-2845299
Inquiry: 0773-2845359
Complain: 0773-2834067