In the morning, you'll be picked up from your hotel in Lijiang by your local guide, who will lead you on a journey to explore the ravishing scenery that the Jade Dragon Snow Mountain has to offer.
The magnificent Jade Dragon Snow Mountain features a variety of landscapes given its souring height and vast range, and Ganhaizi Meadow located at the east foot of the mountain is the starting point to experience its distinctive beauty. The meadow is blanketed with sweeping grasslands lavishly adored with flowers, shrubs and pine trees. Sitting on an altitude of 2900 meters, it makes an ideal place to take in the full view of the snow-crowned peaks of the Jade Dragon Snow Mountain.
Going west for about 5 kilometers from the Ganhaizi Meadow, you will reach the bottom station of the snow mountain, where the comfortable passenger cable will haul you directly to the bottom of the mountain's highest peak, which is the area where the Glacier Park locates. With various types of modern glaciers and the remnants of ancient glaciers, the park boasts a collection of the major essence of middle and low-latitude mountain glaciers in the world. The best way to explore the beauty of the glacier cluster is taking a walk along the meandering 300-meter wooden trail.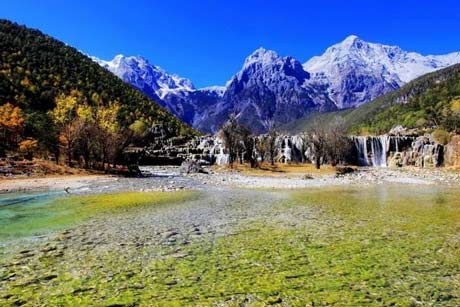 Ganhaizi Meadow, Jade Dragon Snow Mountain Scenic Area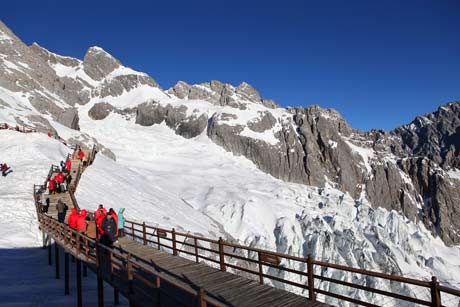 Glacier Park, Jade Dragon Snow Mountain