Upon arrival, you will be picked up at Kunming airport by a local guide and chauffeured to the downtown area where you can gorge on local delicacies. Note: You can decide to visit either the splendid Yuantong Temple or the bustling flower and bird market (detailed introduction about the two places are listed in the following paragraphs). By choosing Yuantong Temple, you can start the visit directly. By picking the flower and bird market, you can visit it later today after the trip to the Green Lake. You will be delivered to the Green Lake which is nicknamed 'the gem of the city'.
You can take a gentle stroll around the lakeside adorned with an abundance of charming teahouses and small boutiques selling handicrafts and beautiful local paintings. Afterwards, you'll visit the Golden Horse and Jade Phoenix Archway situated only a few steps away from the city center for a glimpse of Kunming's ancient glory. It is a city landmark decorated with animal carvings that provide evidence for totem worship practiced by some of the ancient ethnic tribes of Yunnan province for centuries. The archways are at their most glamorous when illuminated at night.
Tailor-make your own itinerary by picking one tourist attraction from the following two options:
A: You can visit Yuantong Temple to savor its old-world taste. Yuantong Temple is the oldest Buddhist temple in the city with a history of more than 12 centuries. Located in downtown Kunming, it offers a tranquil escape from the hustle and bustle of the city. The temple hosts a series of pavilions and Buddhist halls, and it is noted for its gradually descending terrain from the entrance to the back as well as its unique structure with many of its Buddhist halls built around waters.
B: You can spend some time exploring the bustling flower and bird market. The equable climate in Kunming is conducive to the blooming of flowers and the living of birds. So the market is definitely worth a visit.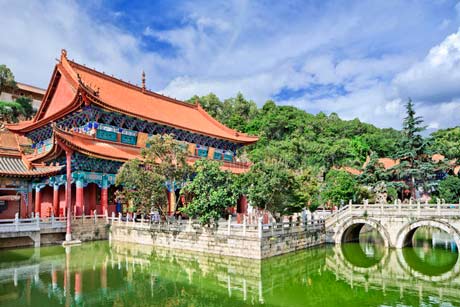 Yuantong Temple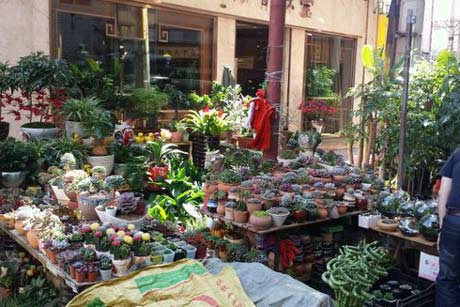 flower and bird market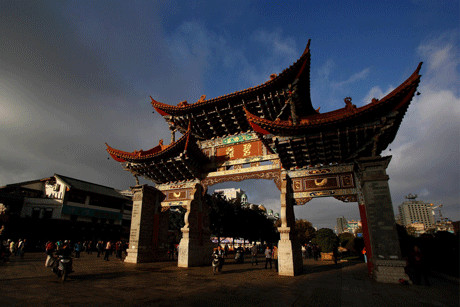 Golden Horse and Jade Phoenix Archway