lunch in hostel
Qiaotou Town is about 99 km away from Lijiang city, it harbors the main passenger station where daily coaches and minicabs deliver hikers to the ticket station to enter the upper gorge. After paying the admission fee for the gorge, you'll be delivered to the Qiaotou Primary School to start your hiking.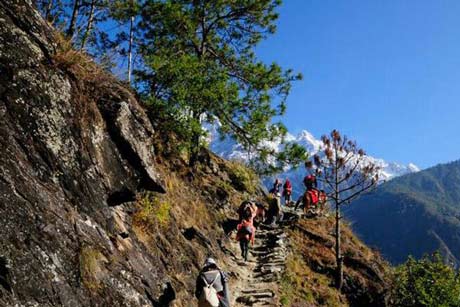 trails of the upper gorge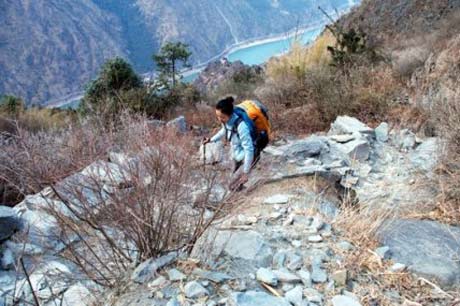 28-Bend Trail
The upper part of the gorge is notable for hosting the narrowest walking trail in the entire trekking route. Most of the paths are either roughly hewed out of cliffs or shaky bridges built with planks. Plodding uphill, you'll be almost constantly sandwiched by the craggy mountain on one side and the precipitous cliffs on the other, which can be simultaneously haunting and thrilling.
After about a 2-hour trekking, you'll reach the first hub on the route—Naxi Family Hostel and have lunch there. After a short rest, you'll head towards the notoriously spiraling 28-bend trail. The trail is ascending with swirling twists and is littered with slippery stones. Patience and mindfulness can be critical in assuring your safety. After reaching the peak of this particular section, the challenge of an arduous uphill climb will be rewarded with a sweeping view of the entire canyon lying under your feet.
After crossing a bamboo forest and the rugged hillside, you'll descend to the Tea Horse Hostel to spend the night.