After breakfast, you'll embark on a road trip for around 3.5 hours to head to the Lugu Lake scenic area. Upon arrival, you'll take a boat cruise to explore its sensational beauty—its hypnotically blue water shimmering in the sunlight. The middle of the lake forms the border between the Ninglang County of Yunnan Province and the Yanyuan County of Sichuan Province. It is an alpine lake at an elevation of 2,685 meters and is the highest lake in Yunnan Province. The lake is shaped like a horseshoe and is adorned with a range of islands, peninsulas, bays and beaches.
One of its most gorgeous islands is Liwubi Island, which is in the middle of the lake and is only half-an-hour boat trip away from the lakeshore. The whole island is lavished adorned with blooming azaleas and sprawling cherry trees. Climbing uphill along the meandering trails to the summit of the island, you'll see the splendid Liwubi Lamasery painted in white and decorated with overhanging eaves, it holds the remains of the late Mosuo Chieftain Ayunshan, whose excellent administrative and diplomatic capability had earned him admiration and high recognition among Mosuo people.
The lakeshores are inhabited by many minority ethnic groups, among which the Mosuo people (a sub clan of the Naxi people) makes up the largest proportion of population. They have an ancient family structure considered as 'a live fossil for researching the marital development of human beings'. You'll learn more about their life and unique culture by visiting the traditional dwelling of a Mosuo family, who'll greet visitors with warm hospitality. You'll also join the Musuo people at night to light up the campfire and dance around the roaring flames—a heritage that has been transformed from a traditional courtship ritual to a welcome ceremony to the visitors.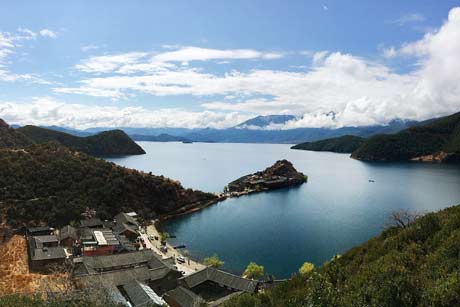 Lugu Lake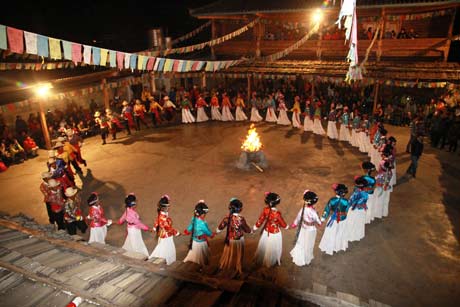 Campfire party hosted by Mosuo people