We'll head north for about 15 kilometers to visit the magnificent Jade Dragon Snow Mountain. It features a variety of landscapes given its souring height and vast range, and Ganhaizi Meadow located at the east foot of the mountain is the starting point to experience its distinctive beauty. The meadow is blanketed with sweeping grasslands lavishly adored with flowers, shrubs and pine trees. Sitting on an altitude of 2900 meters, it makes an ideal place to take in the full view of the snow-crowned peaks of the Jade Dragon Snow Mountain
Next up, you'll visit the gorgeous White Water River, which is a foaming white glacial river flowing down from the valley.
Going west for about 5 kilometers from the Ganhaizi Meadow, you will reach the bottom station of the snow mountain, where the comfortable passenger cable will lift you to Yak Meadow. Situated at an elevation of 3600 meters, Yak Meadow is a perfect spot to gaze at the 13 magnificent peaks of the mountain. In summer, the meadow is carpeted with blooming flowers and lush grass dotted with grazing yaks. In winter, it is blanketed with snow with a tranquil allure. The ethereal and dewy quality of its frequent misty weather often adds the landscape with a mysterious and serene charm.
After returning from the journey to the snow mountain, you'll be delivered to Baisha Village to have a taste of its ancient charm. Baisha Village is named after the signature white sands abound in the area and is located 16 km to the northwest of Lijiang Ancient Town. It's the earliest settlement of the Naxi people and houses a myriad of cultural relics and ancient buildings. One site that is well worth seeking out there is the exquisite Baisha Mural created 600 years ago, which consists of paintings representing the first-class craftsmanship at that time and reflecting the spiritual pursuit and mundane life of Naxi people in ancient times. Not only does it stand out as a rare treasure of art, but it also serves as an important source of information for research on national religions, arts and history.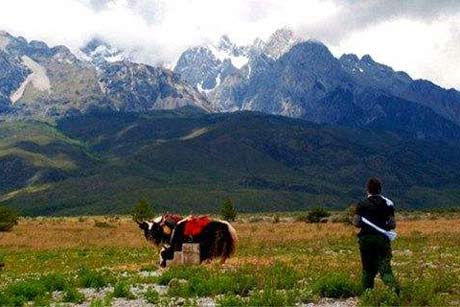 Yak Meadow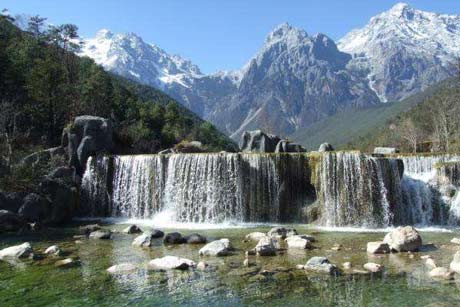 White Water River