Breakfast & Lunch
In the early morning, continue hiking to Tina's Inn (2 hours) after another hour walking down the steep cliff to the bank of Jinsha River to the Middle Gorge (Middle Rapids), worship the dangerours shoal of "Starriness", it is the most narrow part of the gorge, where a tiger can easily jump over the Jinsha River. Lunch at the Middle Rapids or where it is more suitable or convenient.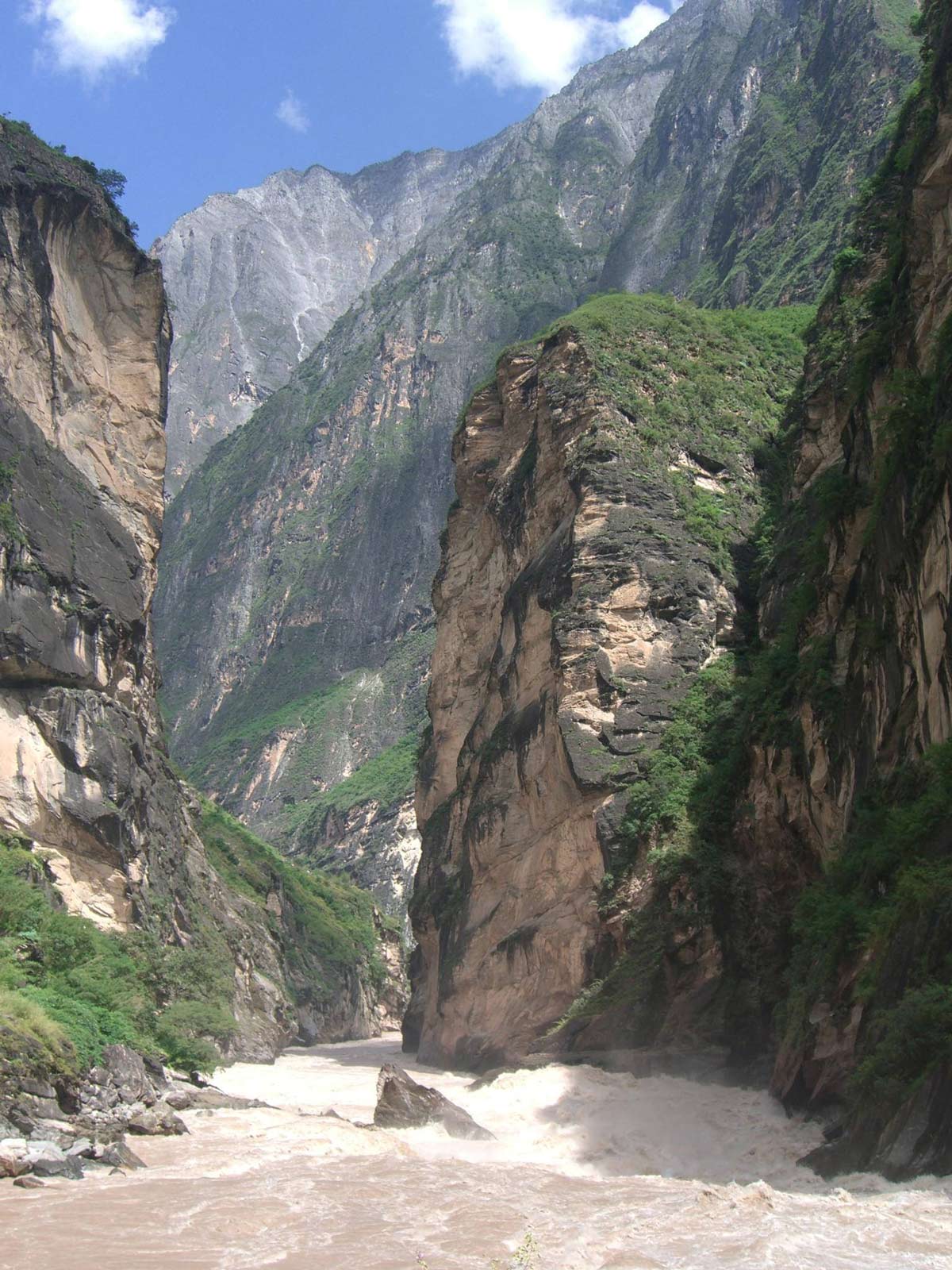 Middle Rapids
There are 3 roads from the Middle Rapids back up to the Gorge to Walnut Grove. One ends at the left of Woody No.2 (using the main road for tourist coaches, 15 RMB for "road crossing" fee). Another ends near Teacher Zhang's Guesthouse (through Tianti which takes 2 hours, 5 RMB "road crossing" fee), take the third which go through ends near Woody's guesthouse where you see a sign advertising Xia Yin Gu's guide service. Take the third one which goes through Yixiantian but takes 3 hours as the scenery is the most spectacular in the entire Tiger Leaping Gorge. Notice that on this third way close to the rapids there is a very dangerous section of a few dozen meters long called "Tiny Sky" (and you need to pay 5 RMB to cross that). Note at the rapids itself, there are two places charging "road crossing" fees of 15 RMB for each: one for a small bridge leading to the first road, the other for crossing the wooden plank to the Middle Tiger Leaping Rock.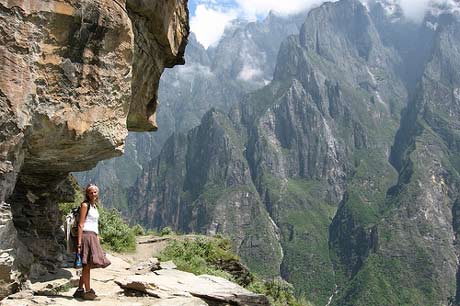 Upper Gorge Trail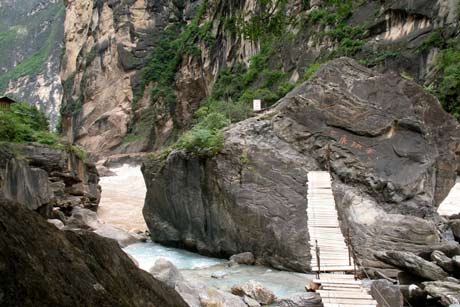 Middle Tiger Leaping Rock
From Half way Guesthouse to Middle Rapids will take between 3 to 4 hours. Then climb up the gorge to Walnut Grove (Woody's Guesthouse) using either the Tianti or Yixiantian route. Depending on how tired, choose the one to suit on the day. So from Middle Rapids to Walnut Grove will take 2 or 3 hours and hence the total for the day from Halfway Guesthouse to Walnut Grove will be about 5 to 6 hours.
Note:
our price doesn't include all the fee "road crossing".