Hongkong is a popular tourist destination in China. This page will focus on how to travel from Beijing to Hongkong.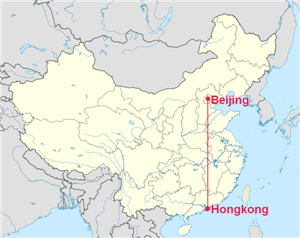 Step 1: Book a flight ticket or train ticket from Beijing to Hongkong.
Beijing to Hongkong by plane
There are many flights from different airline companies flying from Beijing to Hongkong everyday. It takes about 3h30min-4h to  fly between Beijing Capital international airport to Hongkong International Airport. Book a Flight Ticket
How to get to Beijing Capital International Airport
It is about 25 kilometers from the center of Beijing to Beijing Capital International Airport. Airport Express lines, airport buses, taxis are available.
>>read more
Arriving at Hongkong International Airport
Official website of HK Airport
English Version: http://www.hongkongairport.com/eng/index.html
Airport Express
Route1: Airport- downtown
Route2: Airport- AisaWorld Expo
Beijing to Hongkong by train
There is one direct fast train T9(Q97)travelling from Beijing to Kowloon(Jiulong). It takes about 24 hours to travel from Beijing to Kowloon. It departs from Beijing West Railway Station and arrive at Kowloon Railway Station. Book a Train Ticket
Note: The train is running every other day.
Ticket price overview
Deluxe Seat: CNY969
Soft Sleeper: CNY760
Hard Sleeper: from CNY467
Step 2: Book a hotel in Hongkong.
If you want to book a hotel in HK, please enquire us first.
Step 3: Take a tour in Hongkong.
Hongkong is known as a shopping paradise. For most tourist, it will take about 2 or 3 days to visit this city.