Pingyao is about 580km from Beijing, the capital of China. This page will focus on how to travel from Beijing to Pingyao.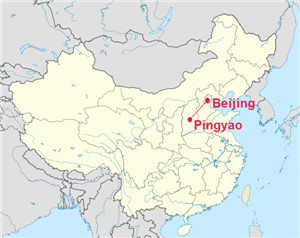 Step 1: Book a plane ticket or train ticket from Beijing to Pingyao.
Beijing to Pingyao by plane
There are no airport in Pingyao. If you want to take a plane to Pingyao, you can go to Taiyuan by air first and then go to Pingyao by train. Book a Flight Ticket from Beijing to Taiyuan
Beijing to Taiyuan by Plane
There are 8 flights flying from Beijing to Taiyuan. It takes about 1h10min to fly from Beijing Capital International Airport to Taiyuan Wusu Airport. Ticket price from CNY330.
Arriving at Taiyuan Wusu Airport
The transportation of Taiyuan Wusu Airport
Public bus
You can take No.201,901 Bus to the downtown.
Taxi
from Taiyuan Airport to the downtown, cost from CNY50
Airport Bus
Ticket price: CNY15
Route: Wusu Airport-Taiyu Road-Jianshe Road-Taiyuan Railway Station- Yingze Street-Wuyi Square
How to get to Taiyuan Railway Station
Airport bus is available.
Public bus: You can take No.201 Bus to Taiyuan Railway Station
Taxi cost from CNY35
Taiyuan Railway Station- Pingyao Railway Station
It takes about 1.5-2h to Pingyao from Taiyuan. Ticket from CNY6.5 .
There are two railway stations in Taiyuan, which are Taiyuan Railway Station and Taiyuan East Railway Station.
Beijing to Pingyao by train
Located to the southwest of Beijing,Pingyao is about 580km away from Beijing. There are four trains travel from Beijing to Pingyao. The trains depart at Beijing Railway Station and arrive at Pingyao Railway Station. It takes about 11-16 hours to travel between the two cities. Book a Train Ticket
Ticket price overview
Soft Sleeper from CNY240
Hard Sleeper from CNY152
Hard Seat from CNY82
The most time-saving way to travel from Beijing to Pingyao
Beijing -Taiyuan-Pingyao
Because there are no high-speed trains from Beijing to Pingyao, however there are high-speed trains from Beijing to Taiyuan and Taiyuan is near Pingyao. So,you can take the high speed trains from Beijing to Taiyuan(2h30min-3h).Then take trains from Taiyuan to Pingyao(1h30min-2h). In this way, it is more comfortable and time-saving (4h-5h)and the cost is just a little higher than the direct trains.
Beijing to Taiyuan High Speed Trains
There are 8 high speed trains from Taiyuan to Beijing. The trains depart at Beijing West Railway Station and arrives at Taiyuan Railway Station.
Ticket price overview
Business Seat CNY605
Deluxe Seat CNY364
First Class Seat CNY285
Second Class Seat CNY194
Step 2: Book a hotel in Pingyao.
Since Pingyao is an ancient town, you probably want to experience a more ancient way of accommodation. There are hotels furnished with Chinese tranditional style furniture and decorated with Chinese ornaments. Just like an ancient inn, being there will take you back to the old times.
There are hotels of different star rates and styles. We ChinaTour.Net offer a hotel booking service with the best value. Hotel fee overview: 3-star hotels from CNY120, 4-star hotels from CNY158, 5-star hotels fromCNY350. Book a Hotel in Pingyao
Step 3: Take a tour in Pingyao.
Getting around in Pingyao will not take you too much time, just 1 or 2 days is quite enough. If you have a few days to spare, it is suggested that you pay a visit to other attractions in Shanxi Province, such as  Yungang Grottoes and Hanging Monastery in Datong, Wutai Moutain in Xinzhou, Hukou Waterfall in Linfen, etc.
We ChinaTour.Net will be pleased to be your professional China guide and offer you tour service. We value customer satisfaction and would like to ensure that you have the best experience possible. Book a Pingyao Local Tour