Why Book with Us?
Save your trouble to book tickets on your own.
Round trip transfer service from your hotel to the theater, convenient and worry-free.
Tickets guaranteed during peak season.
Detailed information
Show time 17:30-18:30 19:30-20:30
Location: Huaqiaocheng Theater, Xiaowuji North Road, East 4th Ring, Chaoyang District, Beijing(北京市朝阳区东四环小武基北路华侨城大剧院)
Ticket+Hotel transfer service
Notify us your hotel, the show time and travelers' names when you make the booking.
Pick you up from your hotel at appointed time according to your hotel location and showtime. Our tour guide will get you a show ticket.
We include basic seat (Area C) in our package. If you would like to upgrade your seat, please contact our tour operator.
After the show, our driver will transfer you back to your hotel.
Note: The price of the children ticket is the same as adult ticket.
Introduction
This is a Chinese tail, an ancient romantic legend, the fragment of distant historical memory -- The beautiful Golden Mask Queen leading her just army defeated the invading Blue Mask and also made the acquaintance of him. The post-war Golden Mask Dynasty returned to its leisurely pastoral life. To ask bless for the Golden Mask Dynasty, the Queen decided to forge the ''mysterious tree''. When the tree grew up, the Queen held a grand celebration and released the Blue soldiers. The Blue Mask King was deeply moved by the Queen's tolerance, the same to the Queen by his braveness, so it witnessed their great admiration and love.
Monstrous floods stroke the kingdom and left it at risk. To save the people, the Queen, under the guidance of the mysterious tree, sacrificed herself. The Golden Mask Queen had to say farewell to the Blue Mask King. The flood gradually subsided, and the people were rescued. The Blue Mask King and the people had endless loving thought of the Queen, and the Queen turned into a golden sunbird flying in the sky above her hometown, blessing the long-lasting well-being of the dynasty.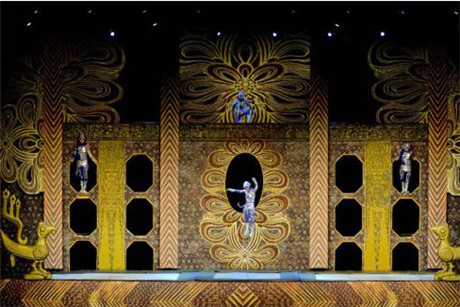 Golden Mask Dynasty Show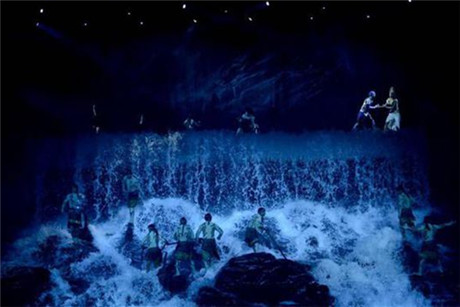 Golden Mask Dynasty Show