Why Book with Us?
Save your trouble to book tickets on your own.
Round trip transfer service from your hotel to the theater, convenient and worry-free.
Tickets guaranteed during peak season.
How to Book?
Ticket only
If you would like to book ticket only, you need to go to the theater by yourself. After the booking is confirmed, you will receive a confirmation voucher by email. Show the voucher to the staff at the ticket office, then you will get the ticket.
The ticket is for basic seat(face value:CNY280). If you would like to upgrade your seat, please contact our tour operator.
Once you make the booking, the ticket cannot be changed or cancelled.
If you would like to book tickets only, you need to make the booking at least one day before. Urgent booking cannot be confirmed.
Location: Liyuan Theater
Jianguo Hotel 1st floor, No.175, Yongan Road, Xicheng District, Beijing.
Ticket + hotel transfer service
When you book the ticket, you need to notify us your exact visiting date, show time and travelers' names.
We include basic seat(CNY280) in our package. If you would like to upgrade your seat, please contact our tour operator.
Detailed information
Ticket + hotel transfer service
Tour Type: Show ticket + private hotel transfer service(round trip)
Departure: Everyday
Pick you up from your hotel at 6:30pm, which may be adjusted according to your hotel location. Upon arrival at the theater, our driver will get you a show ticket.
The Peking Opera show is performed during 7:30pm and 8:40pm.
After the show, our driver will transfer you back to your hotel.
You can also book tickets only, and get to the theater on your own.
What to expect?
Peking opera of China is a national treasure with a history of 200 years. Through a period of more than half a century of combination and integration of various kinds of opera there evolved the present Peking opera, the biggest kind of opera in China, whose richness of repertoire, great number of artists of performance and of audiences, and profound influence are incomparable in China.
Peking opera is a synthesis of stylized action, singing, dialogue and mime, acrobatic fighting and dancing to represent a story or depict different characters and their feelings of gladness, anger, sorrow, happiness, surprise, fear and sadness. In Peking opera there are four main types of roles: sheng (male) dan (young female), jing( painted face,male), and chou (clown, male or female). The characters may be loyal or treacherous, beautiful or ugly, good or bad, their images being vividly manifested.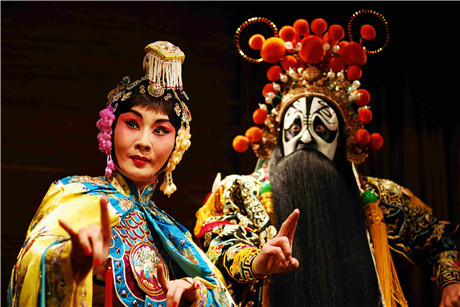 Peking Opera Show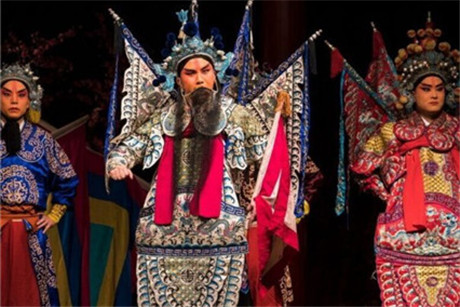 Peking Opera Show