Beijing to Pingyao by train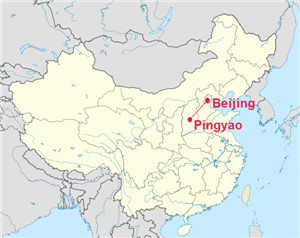 Located to the southwest of Beijing,Pingyao is about 580km away from Beijing. There are four trains travel from Beijing to Pingyao. The trains depart at Beijing Railway Station and arrive at Pingyao Railway Station. It takes about 11-16hours to travel between the two cities.[button colour="lightblue" type="slightlyroundedarrow" size="small" link="http://chinatour.net/train/" target="_blank"]Book a train ticket[/button]
Ticket fare
Soft Sleeper from CNY240
Hard Sleeper from CNY152
Hard Seat from CNY82
The most time-saving way to travel from Beijing to Pingyao
Beijing -Taiyuan-Pingyao
Because there are no high-speed trains from Beijing to Pingyao, however there are high-speed trains from Beijing to Taiyuan and Taiyuan is near Pingyao. So,you can take the high speed trains from Beijing to Taiyuan(2h30min-3h).Then take trains from Taiyuan to Pingyao(1h30min-2h). In this way, it is more comfortable and time-saving (4h-5h)and the cost is just a little higher than the direct trains.
Beijing to Taiyuan High Speed Trains
There are 8 high speed trains from Taiyuan to Beijing. The trains depart at Beijing West Railway Station and arrives at Taiyuan Railway Station.
Ticket price overview
Business Seat CNY605
Deluxe Seat CNY364
First Class Seat CNY285
Second Class Seat CNY194  >>more detail
Click here for more information about train travel in China: tickets purchase,change and cancellation,children ticket,luggage allowance, and etc.
We ChinaTour.Net offers a reliable online train booking service. We have Train Schedules in English. It will be very easy for you to find your target train. Then, we will book the tickets for you. Only a few service fees charged. Book a Train Ticket
Recommended Taiyuan local tours:
3 days tour for Taiyuan, Wutai Mountain and Pingyao Ancient City from $414
4 day 3 night(without hotel) Datong, Taiyuan and Pingyao tour from $651      >>more tours