Diqing Shangri-la Airport is located about 5 km from county town. There are flights from Kunming, Chengdu, Lhasa, Chongqing, Beijing and Guangzhou to Shangri-la. Some of the flights may not available everyday. Book a Flight Ticket
Airport transport
The Airport is near the downtown. Taxis are available between the airport and county town.
Long-distance buses
Train is not available. Long-distance bus has become the major transport means between Shangri-la and other places.
There are buses between Shangrila and Kunming, Lijiang, Dali, Panzhihua(Sichuan), Daocheng(Sichuan), Lhasa, Deqin. IIt takes about 4 hours from Lijiang to Shangri-la by bus. Besides, the Tiger Leaping Gorge and the First Bend of Yangtze River are on the way.
Note: The weather is changeable in rainy seasons especially in July and August. The bus schedule may be changed or cancelled. It is advised to inquire in advance.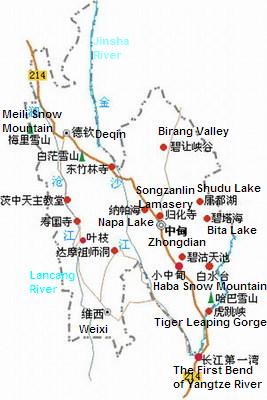 For attractions in Shangri-la
Pudacuo National Park  There are buses available from Shangri-la Bus Station. Depart at 9:30 at the bus station and return from Pudacuo at 15:00. The bus schedule may change, please consult the bus station.
Songzanlin Lamasery(Ganden Sumtseling Lamasery) is located in the downtown. Public bus is available.
For other attractions, it is best to rent a car. It will save a lot of time and more flexible. If you would like a local tour, please inquire us.