In the morning, our guide will pick you up at your own booked hotel in downtown Beijing and accompany you to Mutianyu Great Wall in about 1 hours' driving. Hike about 2 hours on Mutianyu Great Wall, the most famous and best-preserved wall. It lies about 6okm to the north of Beijing. If you want to save some energy for afternoon skiing, we recommend you up to the Great Wall by cable car( optional ).
At noon, you will have a buffet lunch at the foot of the Great Wall.
After lunch, drive to Beijing Huaibei International Ski Resort (ski 2-4 hours). This ski resort is located in Hairou District of Beijing. it has the longest run in the entire Beijing area. The resort encompasses a total area of over 9.6 square kilometers. It is located near the Mutianyu Section of The Great Wall. It is the only ski resort in China surrounded on three sides by The Great Wall. You will enjoy 2-4 hours ski at the ski resort. After skiing, you will be transferred back to your downtown hotel in Beijing.
Huaibei Ski Resort is the only ski resort in China surrounded on three sides by The Great Wall.
There is one advanced ski trail and three intermediate ski trails at the Huaibei resort. The ski trails at Huaibei International Ski Resort are more than 5,100 meters long, with a drop elevation of 238 meters and the cableway is 1,200 meters long.
The resort is perfect for beginning skiers, or non-skiers. There is a wide variety of snow related activities besides skiing that can be enjoyed. There is snow archery, horse drawn sledding and snowmobiling available. The resort has three cableways which provide a spectacular view of the Great Wall and surrounding mountains.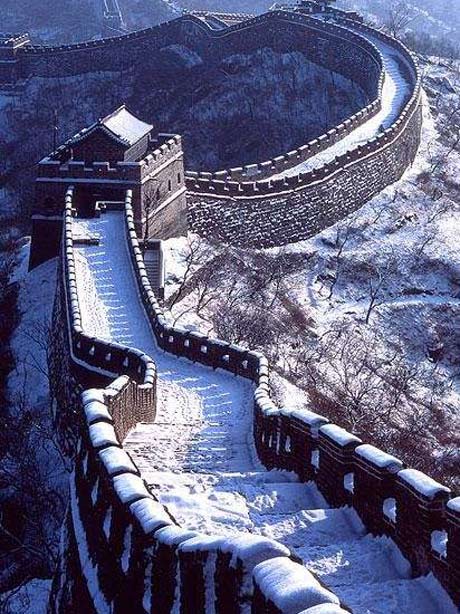 Mutianyu Great Wall covered by snow