Beijing is famous for its historical and cultural attractions over the world. However, historical sites are not the entire  Beijing. The natural landscape of Beijing is worth exploring, too. The following is a list of  Top 10 Beijing Natural Attractions for reference.
1. Fragrant Hills
Fragrant Hills Park is most famous for the red colored leaves that cover the hillsides in autumn, an event now seemingly fixed in the Beijing calendar. However, with so much to see, XiangShan Park is a wonderful day out throughout the year. >>More
2. Longqing Gorge
Beijing Longqing Gorge has been hailed as the "Little Li River" scenery. Travelling in Longqing Gorge on boat, you will seem like seeing a long landscape painting. The beautiful scenery comes to you and you are travelling in a painting.
3. Fenghuangling Scenic Spots
Fenghuangling is a natural scenic spot in the Haidian district, about 33 km from downtown Beijing. Covering an area about 15.33 square kilometers, the park boasts beautiful natural scenery and historical relics. It is reputed as the Small Yellow Mountain. this park is regarded as a green lung for the capital city, boasting of a well-conserved ecological environment: green hills, clear water, blue sky, white clouds, rolling ridges, thick forests, winding trails, exotic flowers and rare trees. While water in the park is superb in quality, air is fresh, being five times purer and containing 150-fold more anions than in the downtown area. In summer, the main temperature is 2-3 degrees lower than in the urban area and the relative air humidity is 65 percent.
4. Black Dragon Pool
Black Dragon Pool is a popular summer resort located in Miyun County about 93 kilometers northeast of Beijing. Lying itself in a 220-meter high, 4-kilometer long valley, which is commonly called Gulu Valley. There are three waterfalls and eighteen pools in the valley. It is always appraised as being fresh, astonishing and steep. It is an erosion-type pool scenic spot formed by streams flowing in the valleys, also called Wheel Valley, it is winding and twisting, with steep cliffs on both sides.
5. Jingdong Canyon
Located 85km east of Beijing downtown, Jingdong Canyon has a wonderful landscape which contains lakes, rivers and valleys. Inside the canyon are numerous caves, deep pools, craggy peaks, splashing waterfalls, and an enormous reservoir.
6. Baiwangshan Forest Park
Baiwangshan is the closest forest park to the center of the city, just 3 kilometers northwest of the Summer Palace. With an area of about 2 square kilometers, the park is covered with thick forest and flourishing shrubs. In the spring, the park is beautifully decorated with splendid green foliage.
7. Shidu Scenic Area
The scenic area has the largest and most typical Karst valleys in north China and is the closest scenic spot of its kind to Beijing. Renowned as Green Mountains and River, Hundred Li Art Gallery, it has twelve geological landscapes such as the Flying Rock, Chinese character Buddha in the Dragon Mountain, Rock in a Rock and more. The Juma River winds its way across the mountains like a jade belt, and sets off the peaks.
8. Stone Flower Cave (Shihua Cave)
The cave is multi-storeys and consists of seven layers. Layers 1 to 6 are dry and layer 7 is submerged in underground river. Layers 1 to 4 is open to public at present and the sight-seeing route is more than 2,500m long. The sediments in the cave are complete in variety. changeable types of tufa were generated by infiltration, dripping, flowing, stagnating and splashing and there are over 40 kinds of travertine forms.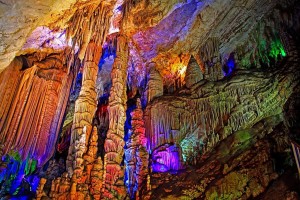 9. Miaofeng Mountain
Miaofeng Mountain, with its towering peaks rising majestically to a height of more than 1,300 meters, is the major peak in the northern range of the Western Hills. Situated at a distance of about 70 kilometers from downtown areas, its sheer cliffs, jutting crags and tortuous mountain paths make it one of the most renowned scenic spots in northern China.
10. Jiufeng National Forest Park
Jiufeng Peak not only attracts visitors with its winding and primitive paths, zigzagging ancient paths leading to the peak and its imposing and stunning scenery, but also is well-known in Beijing for its natural landscapes rich in foliage resources, and has therefore become the best place to climb up for a good view in the Xiaoxishan scenic area.
Recommended Beijing local tours:
1 Day Tour: Great Wall, Tian'anmen Square, Forbidden City, from $43
1 Day Tour: Forbidden City, Temple of Heaven, Summer Palace, from $39
2-Day Tour: Forbidden City, Tian'anmen Square, Temple of Heaven, the Great Wall, Ming Tombs Hotel Package, from $238.
3-Day Tour: Tian'anmen Square, Forbidden city,Temple of Heaven, the Great Wall, Ming Tombs,Beijing Hutong, Summer Palace, from $192.                                                                                  >>More Beijing Tours