How to Book a Mutianyu Great Wall Ticket & Cable Car?
In order to book tickets for the Mutianyu Great Wall, we will need your name, passport number and a visit date. After the ticket is confirmed, we will send you a voucher.
After the booking is confirmed, you can visit the Mutianyu Great Wall with your voucher. Skip the line and just show your voucher to staff at the entrance.
Why Choose Us?
Skip the line and save your precious time, have direct access to the Great Wall. Just show the voucher to check in.
Tickets can be changed or cancelled if you inform us in advance.Tickets guaranteed during peak season.
We have the most complete ticket options of Mutianyu Great Wall, including the shuttle bus ticket, cable car and toboggan as well as the entrance ticket.
Enjoy the amazing scenery at the Mutianyu section of the Great Wall, which is more beautiful and less crowded.
Take a cable car or toboggan to go up and down the Great Wall to experience the most relaxing way of admiring Mutianyu Great Wall.
If you would like a transfer service to be picked up from your hotel, we recommend you to book a Mutianyu private car transfer tour or Mutianyu Day Tour or join a Mutianyu group bus tour to make your travel more convenient.
If you are also interested in Chinese history, don't miss out the Forbidden City or Beijing Historic and Culture Tour.
Note:
We recommend you to buy the round trip shuttle bus ticket together with the entrance ticket. It is required that all vehicles have to stop at the parking lot, which is about 3 kilometers away from the entrance. Tourists need to transfer to the shuttle bus to get to the entrance. We recommend you to take the round trip shuttle bus to save 6km's walk.
Ticket for round-trip toboggan means chairlift to go up and toboggan to go down.
How to Get There?
We offer bus transfer service (CNY85) together with entrance ticket (CNY65), which is in total CNY150(USD22). Pick up from Beijing downtown hotel at about 7:00, round trip.
If you would like a private transfer, you can choose Entrance Ticket + Hotel to Great Wall Private Car Transfer service. Flexible pick-up time according to your schedule.
What to Expect?
Located in Huairou County about 45 miles from Beijing, the Mutianyu Great Wall enjoys a long history and is part of the historic culture of China. It connects to the Juyongguan Pass in the West and the Gubeikou Great Wall in the East. The wall was first built during the Northern Qi Dynasty (550 – 557). During Ming Dynasty (1368 – 1644), Tan Lun and Qi Jiguang, two famous patriotic generals, rebuilt it in order to strengthen its defensive potential as they regarded it as a strategic block for national defense. It served as the Northern area's protective block, guarding the capital and imperial mausoleums for generations.
The fortifications and the Great Wall here are characterized by many watchtowers on overlapping mountain ranges. The wall was built with slabs of stones, is crenellated on both sides with bricks. Horsetrapping snares outside the wall offer better protection and ward off attacks. With Juyongguan in the west and Gubeikou in the east.
U.S. Former First Lady Michelle Obama and her daughters visited the Mutianyu section of the Great Wall in Beijing on March 23rd, 2014.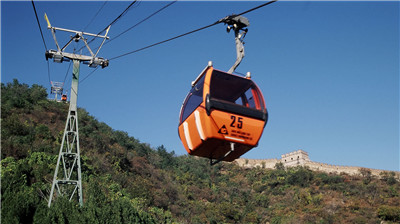 Cable Car Up and Down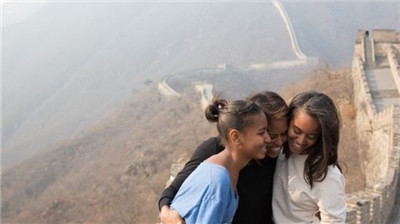 Former US First Lady Michelle Obama and Her Daughters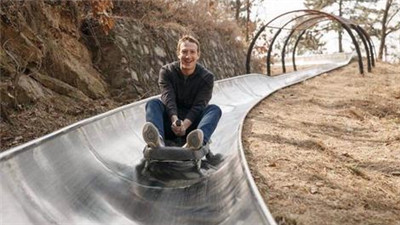 Toboggan Down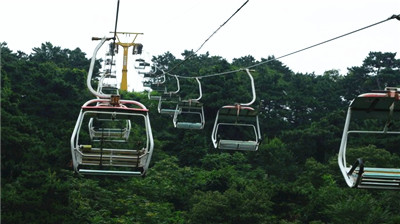 Chairlift Up