Hotel pick-up and drive to the Terracotta Warriors Museum
In the morning, your tour guide will pick up you from your hotel lobby at confirmed time between 8:00-9:00. Your tour guide will inform you the specific pick-up time the night before through calling your hotel room or notify the reception desk.
Then you will take about 40 minutes to reach the famous Terracotta Warriors and Horses. On the way to there, you will first make a short visit to the Terracotta Figures Factory which focuses on the reproduction of the miniature Terra-cotta Soldiers. (If you are unwilling to go to the factory, just tell our travel consultants in advance that they will arrange a non-shopping itinerary for you or you can choose the No Shopping Group tour(Route B) when you make the booking.)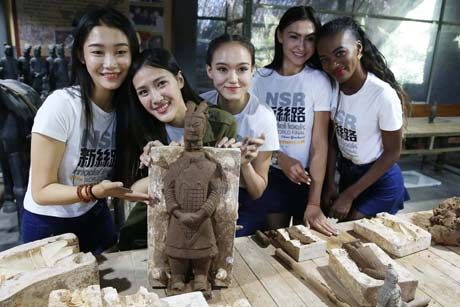 Making clay miniature Terracotta Soldiers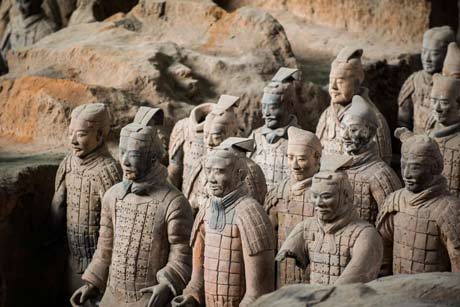 Terracotta Warriors
Visit the Terracotta Warriors Museum (2.5 hours)
After arriving, you will visit the Terracotta Warriors and Horses (40 miles away from downtown), the greatest archaeological findings of the 20th century——the army of terra-cotta warriors and the bronze chariots entombed in vast underground vaults at emperor Qin's tomb.It will take around 2.5 hours to appreciate there.
Three vaults of warriors and horses have been discovered for now. Vault 1 is the largest pit among the three. These three pits covers an area of over 20 thousand square kilometers. The warriors and horses are the same size as those in real life. Each of the warriors looks different. The weapons the warriors holding are all made of metal, which can be used in real wars. It indicates that Qin Dynasty's metallurgical technology and weapon-manufacturing technique already had reached quite a high level. No wonder people say that it is an underground army.
Have lunch at the local restaurant
At noon, you will be provided the typical Chinese lunch, which will certainly satisfy your taste buds. Please tell us your food preference in advance, such as a vegetarian diet, Muslim food, gluten-free food, and etc. so that we will be able to prepare in advance.
Qin Shi Huang Mausoleum Outer-View
After lunch, we will drive by Qin Shi Huang Mausoleum and view it from a distance. Most of the mausoleum haven't been excavated and what's inside still remains a mystery. What we can see today is just fields and hills.
Back to Xi'an and hotel drop-off.
After the tour we will drive back to Xi'an and drop you off at your hotel around 3:30 pm.
Price Includes
Typical Chinese lunch.
Entrance tickets as listed.
English speaking tour guide.
Pick-up and drop-off from airport and hotel.
Price Excludes
Personal expenses.
Tips for the guide and driver.
Any international or internal flights and hotels.
Please Note:
We arranged one shopping stop for private tour: Terracotta Figures Factory with No Forced Shopping.If you don't want to visit the factory, please choose no shopping tour when you make the booking.
Child taller than 1.1 meter will be charged full price, child smaller than 1.1 meter will be charged half price.
Normally, our local guide will contact you the day before the tour day or leave a message at the front desk of the hotel. If you don't receive any phone calls or messages before 8:00 pm, please contact us as soon as possible (Phone number: +86-10-56629550).