Around 8:00am - Lunchtime
Our tour guide will pick you up from your hotel lobby at confirmed time between 8:00-9:00. On the way to the Terra-cotta Warriors Museum, we will first make a short visit to the Terra-cotta Figures Factory which focuses on the reproduction of the Terra-cotta Soldiers. And then visit Terracotta Warriors and Horses (40 miles away from downtown), the greatest archaeological findings of the 20th century——the army of terra-cotta warriors and the bronze chariots entombed in vast underground vaults at emperor Qin's tomb, under the guidance of our tour guide.It will take around 2.5 hours to appreciate there.
In ancient China, when a person died, especially someone of high status or with wealth, there would be someone or something to be buried with the dead. The Qin Terra-cotta Warriors and Horses were built to be buried with First Emperor of Qin when he died. Chinese emperors usually began to built their tombs when he was alive. Qin Shi Huang began to build his tomb soon after he became an emperor. It takes about 40 years to finish the whole project. Over 700 thousand labors took part in the construction of the Qin Terra-cotta Warriors and Horses.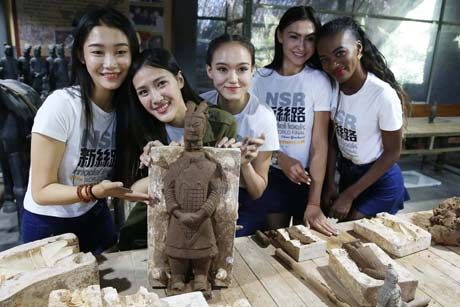 Terracotta Warriors and Horses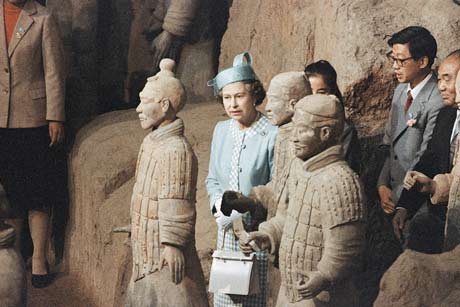 Terracotta Warriors and Horses
Three vaults of warriors and horses have been discovered for now. Vault 1 is the largest pit among the three. These three pits covers an area of over 20 thousand square kilometers. The warriors and horses are the same size as those in real life. Each of the warriors looks different. The weapons the warriors holding are all made of metal, which can be used in real wars. It indicates that Qin Dynasty's metallurgical technology and weapon-manufacturing technique already had reached quite a high level. No wonder people say that it is an underground army.
Typical Chinese Lunch
At noon, you will be provided the typical Chinese lunch, which will certainly satisfy your taste buds. Please tell us your food preference in advance, such as a vegetarian diet, Muslim food, gluten-free food, and etc. so that we will be able to prepare in advance.
Lunchtime-3:30pm
After lunch, we will drive by Qin Shi Huang Mausoleum and view it from a distance. Most of the mausoleum haven't been excavated and what's inside still remains a mystery. What we can see today is just fields and hills.
After the tour we will drop you off at your hotel around 3:30 pm.
Note: Normally, our local guide will contact you the day before the tour day or leave a message at the front desk of the hotel. If you don't receive any phone calls or messages before 8:00 pm, please contact us as soon as possible (Phone number: +86-10-56629550).