This route is one of the most popular day trips,which is suitable for those tourists who have limited time but intend to go to multiple attractions.
9:00am - Lunchtime

Our tour guide will meet you in your hotel lobby between 8:30-9:00.
Today's adventure begins with Xian Museum (closed on Tuesdays). Tourists can learn about the history and culture of Xian by visiting the Xian Museum and the pagoda.
Next move on to the nearby North Square of Big Wild Goose Pagoda. The pagoda standing on the square was originally built in the Tang Dynasty to keep sutras and figurines of the Buddha that Xuanzang brought back to China from ancient India. And surrounding the pagoda a garden styled square was built for citizens to have retreat.

Chinese Lunch

Have lunch at noon. Please let us know your food preferences, such as a vegetarian diet, Muslim food, gluten-free food, and etc. We will prepare in advance.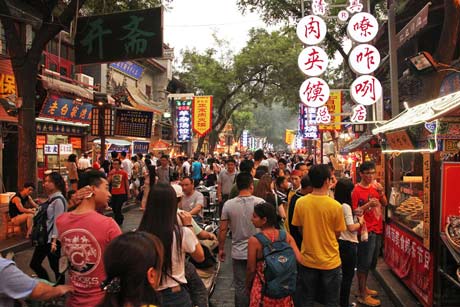 Muslim Quarter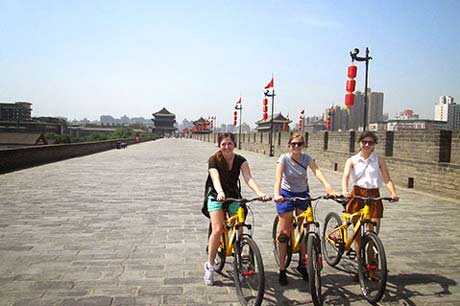 Ancient City Wall
Lunchtime - 6:00pm

After lunch, we'll move on to Xian Ancient City Wall. Xian Ancient City Wall is the most complete preserved and the largest city wall in China. It was built for military defense in ancient times. The rectangular city wall is 13.7 kilometers in circumference. Visitors can optionally ride bikes or take eco-car on the city wall top.
After that you will visit the Bell Tower and Drum Tower Square for one hour. The Bell Tower and Drum Tower of Xi'an date back to the Ming dynasty (1368-1644). The two are located in the center of the Xian city connecting the four roads from east, south, west and north within the city wall.
The last stop is the Muslim Quarter , a hub of the Muslim community in Xian City. Many special local products and snacks to be found along this street. You can enjoy preserved meat, casserole, various noodles.
At the end of the day tour, you will be transferred back to your hotel in Xian.