Cloud Bridge, the longest glass bridge in the world, has open to the public since April 26th, 2015.
The bridge was built in Yunyang Longgang National Geological Park, which is located in Chongqing, China. The park is famous for its unique mountains and oddly-shaped rocks, which is a typical Karst landscape.
The glass bridge is built on a cliff of 1010 meters' altitude. It is 26.68 meters' long, which is even 5 meters longer than the bridge in the Grand Canyon of America. There is not any shade or support under the glass bridge. It is earthquake-resistant up to 8 on the Richter scale.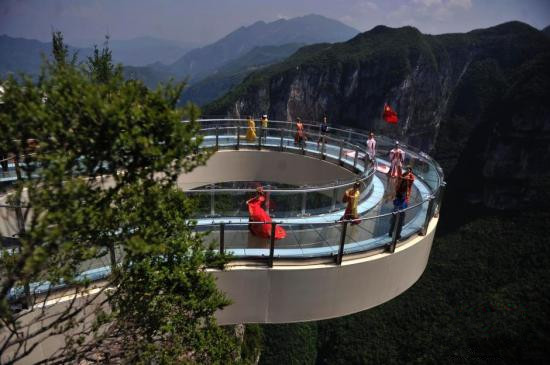 Tourists could have a bird's eye view of the amazing landscape below through the transparent glass. It is just like walking on the cloud. If you would like a local tour, please inquire us.
Other famous glass bridges in China are in Tianmen Mountain of Zhangjiajie, Hunan Province, Fenghuang Mountain of Dandong, Liaoning Province and Baishi Mountain(White Stone Mountain) of Baoding,Hebei Province.