Overview
---
Xi'an, the ancient capital city of 13 dynasties from 1067 BC, is the home of the famed terracotta warriors, it can be regarded as the China's natural museum of history. The Tang Dynasty was the most brilliant golden age in Chinese history.The Tang Dynasty Show integrate the luxurious ancient costumes and historical styles of ancient figures presenting the prosperity of the Tang Dynasty and the extravagance of the palace in a form of combined majestic songs and fabulous dances.
What to Expect
---
Indulging yourself in the combination of the Tang Dynasty Music and Dance Show and Dumpling Dinner is proved to be one of the top fascinating activities at night in Xi'an.During this wonderful spectacle, you can enjoy traditional yummy dumplings, Tang Dynasty's distinctive dances and majestic music with sumptuous costumes . We can provide a round-trip transfer service from the hotel according to your need.
Highlights
---
Watch a performance with traditional instruments,gorgeous costumes and distinctive hairstyles
Experience the exotic ambience of the dance performance
Comfortable and enjoyable theatre restaurant
Hotel pick up and drop off within Xi'an Second Ring Road (Optional)
Yummy Chinese traditional dumplings banquet with varieties kinds of flavors (Optional)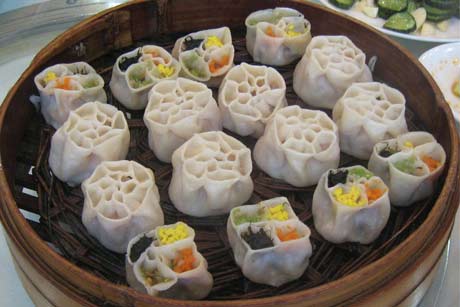 Dumpling Banquet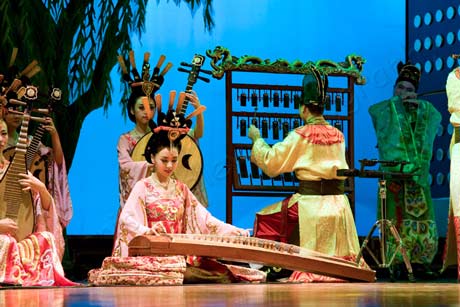 Tang Dynasty Show
How to Book?
---
Ticket Only
If you would like to book ticket only, you have to go to the theater by yourself. After the booking is confirmed, you will receive a confirmation voucher or reply via email. Just tell your name to the staff or show the voucher to them at the ticket office, then you can get the ticket and access to the theatre directly.
If you would like to book ticket only, you need to make the booking at least one day before. Urgent booking cannot be confirmed.
Ticket + Hotel Transfer Service
If you intend to choose the Ticket+Hotel Transfer Service, you need to notify us your exact visiting date, full name and how many people you have.We could pick up you from your hotel to the theater and transfer you back after the show.
If you intend to book the hotel-transfer service, please make sure that your hotel address should be within the Second Ring Road of Xi'an city,otherwise, we couldn't provide you with the transfer service.
When and Where to See
---
Sunshine Lidu Grand Theatre
Shaanxi Sunshine Grand Theatre is located at the No.29 of eastern section of Huancheng Road in Xi'an, it has huge space and refined settings as a theatre-style restaurant with its fabulous performance. To enjoy the tang dyansty music and dance show and traditional Chinese dumpling dinner here will leave a wonderful impression on your memory.
Duration: 20:00-21:00(Only Tang Dynasty Show)/18:00-21:00(Dumpling Dinner+Tang Dynasty Show)
Location:No.29 of eastern section of Huancheng Road in Xi'an, China
Available Everyday.
Shaanxi Song & Dance Theatre
Shaanxi Song & Dance Theatre is a comprehensive artistic and culture venue, which integrates Tang Dynasty music and dance and Chinese traditional diet. It was officially opened in 1998, especially renowned for the Tang Dynasty Show among the domestic and foreign districts.In order to cater to the characteristics of Tang Dynasty style, the theater has been designed according to professional stage standards to create a first-class performance stage in China. It can accommodate up to 700 people for dinner while watching performance.
Duration: 20:00-21:00(Only Tang Dynasty Show)/18:00-21:00(Dumpling Dinner+Tang Dynasty Show)
Location:No. 161, Wenyi Road, Xi'an (outside the east gate )
Available Everyday.
We offer a Tang Dynasty Show tour service. The show usually begins at 20:00 and lasts for about 1 hour. You can also have a Dumpling Dinner before the show. We can pick you up from your hotel and drop you off after the show,convenient and worry-free.Tickets guaranteed during peak season.Save your trouble to book tickets on your own. It is recommended that you book a Xi'an day tour and a show in the evening.
Contact us.