Tour Overview
Duration: 2 Days
Tour Type: Private tour.
Departure: Everyday.
Similar Tour: 2 Days Xian Private Tour Package
Tour Itinerary
Day 1 (Lunch)
Pick you up at appointed time from downtown hotel in Xian.
Full day tour to visit Terra- cotta Warriors & Horses (40 miles away from downtown), the greatest archaeological findings of the century, the army of terra-cotta warriors and the bronze chariots entombed in vast underground vaults at emperor Qin's tomb and the bronze chariots entombed in vast underground vaults at emperor Qin tomb. You will appreciate the marvelous Terracotta warriors in full battle array of Emperor Qin's tomb.
In ancient China, when a person died, especially someone of high status or with wealth, there would be someone or something to be buried with the dead. The Qin Terra-cotta Warriors and Horses were built to be buried with First Emperor of Qin when he died. Chinese emperors usually began to built their tombs when he was alive. Qin Shi Huang began to build his tomb soon after he became an emperor. It takes about 40 years to finish the whole project. Over 700 thousand labors took part in the construction of the Qin Terra-cotta Warriors and Horses.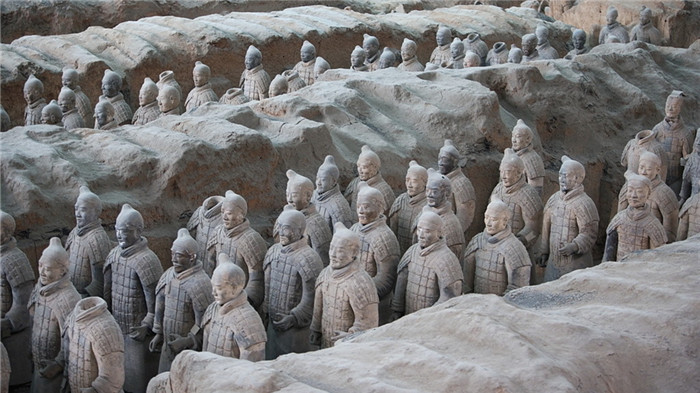 Then visit Huaqing Hot Spring. The palace covers an area of 85,560 square meters. Entering the West Gate of Huaqing Hot Springs, you will see the Nine-Dragon Pool, the Lotus Flower Pool and the Frost Drifting Hall. The last stop of this day is Banpo Neolithic Village Museum, the 6,000-year-old Banpo site was a typical matriarchal clan community in the Yellow River Valley.
Be transferred back to hotel.
Day 2 (Lunch)
After breakfast, pick you up from hotel, take you to visit the Ancient City Wall, an extension of the old Tang Dynasty structure boasting the most complete city wall that survives through Chinese long history. We will Stroll along the massive city wall. Afterwards, go to the Big Wild Goose Pagoda, where widely renowned Master Xuanzang (Monk Tripitaka) stored his classics brought from India. The emblem of Xian city- Bell/Drum Tower. Then go to The Great Mosque is the largest and best preserved of the early mosques of China. The Muslim Street is the most famous and best places in Xian for local snacks and shopping.Get back to your hotel.
Tips:
If you arrive in Xian by Train, we also can arrange round-trip Train station Transfer with a little cost listed below:
1 Person: 200CNY; 2 - 4 person: 50CNY per person