Since China has a railway system covering more than 70,000 km with more than 1600 passenger stations, train travel has always been one of the major transportation means of Chinese people. For tourists traveling in China, train travel is much cheaper.
How to buy train tickets in China
There are three ways for passengers to buy train tickets.
1 Train stations and ticket offices
Passengers could buy train tickets at the train ticket windows, including the ticket windows at the train stations, auto ticket machines and ticket offices scattered around the city. The pre-sale period of ticket offices is 58 days in advance.
Usually there are several ticket windows in the ticket office of train stations. English language ticket window is available in some big cities. If there is no English window in the station, you can try to ask the working staff for help and they will find someone speaking English to help you. It is suggested that you write the train number, starting and arrival stations, date of departure on a paper and show it to the conductor.
Ticket machines can only be used by Chinese ID holders.
Ticket offices are scattered in the city. CNY 5 service fee charged for each ticket.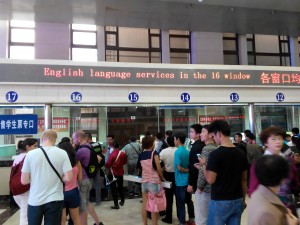 2 Online
The official train booking website of www.12306.cn . Only Chinese version is available. Passengers are required to register by one's real name and use a China UnionPay Card to make an online payment. Therefore, it is difficult for foreign tourists to book by themselves.
The pre-sale period of online booking is 60 days in advance.
Another way to book online is through online booking agency. We Chinatour.net offers a reliable train ticket booking service. We have train schedules in English and various payment methods. Only a few service fee charged. Book China Train Ticket
3 By telephone
Telephone booking is available in a few cities and only Chinese language is available.
ChinaTour.Net offers an online train booking service. We have train schedules in English. It will be very easy for you to find your target train. Then, we will book the ticket for you. Only a few service fee charged. Click here to book a train ticket. After the confirmation of the booking, you need to print out the paper ticket in the railway stations or ticket offices with the order number and the passport.
Related information about train travel
China Train Tickets and Seat Classes
How to Buy Train Tickets for Children in China
China Train Tickets Change and Cancellation
Spring Festival Rush and National Day Rush
When is the best time to book a ticket in advance?