Since China is a country with a vast territory, there are 5576 railway stations in China covering 135360.9km, among which 1994 stations are for passengers. In China, almost every city has a train station. For big cities, such as Beijing, Shanghai, Guangzhou, Zhengzhou, Wuhan etc, there are more than one station.
A Railway Station is composed of a ticket office, waiting hall, platform etc.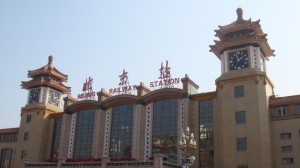 Ticket Office
Almost all the ticket offices in the railway stations are open 24 hours.In China, the pre-sale period of the train tickets in railway stations is 58 days. (Online 60 days) There are ticket windows for foreign passengers in train stations in big cities. If not, ask for help from the working staff who is dressed in a uniform.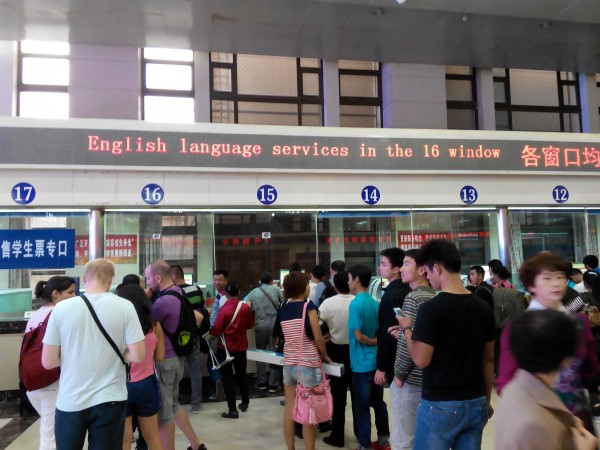 Waiting Hall
At the entrance of the waiting hall, passengers are required to show the train tickets and ID or passport to the working staff. There are usually more than one waiting room in the hall. For each train, there is a corresponding waiting room.  Waiting rooms are usually equipped with toilets,drinking water dispensers, lost and found, inquiry counter, food store etc.
Platform
The platform are connected with the waiting room. For each train, there is a corresponding platform. The number of the platform is shown on the LED bulletin at the entrance of the platform.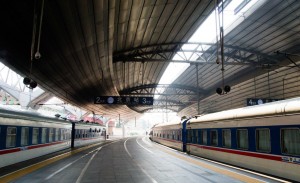 We 
ChinaTour.Net
 offers a reliable online train booking service. We have
Train Schedules
in English. It will be very easy for you to find your target train. Then, we will book the tickets for you. Only a few service fees charged.
Book a Train Ticket
Related information about train travel
How to Buy Train Tickets in China?
China Train Tickets and Seat Classes
How to Buy Train Tickets for Children in China
China Train Tickets Change and Cancellation
Spring Festival Rush and National Day Rush
When is the best time to book a ticket in advance?
Train Travel between Major Cities