Passengers may collect the ticket at the ticket office in the train station. It is easy to find the ticket office in the train station, usually with eye-catching Chinese words "售票厅" or "售票处"(Chinese for ticket office) on the building. There will be several ticket windows in the office. Just line up and wait for your turn.
Ticket Office in the train station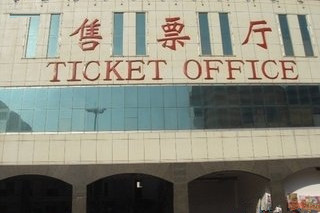 Ticket Window for English Speaking Passengers(available at some stations)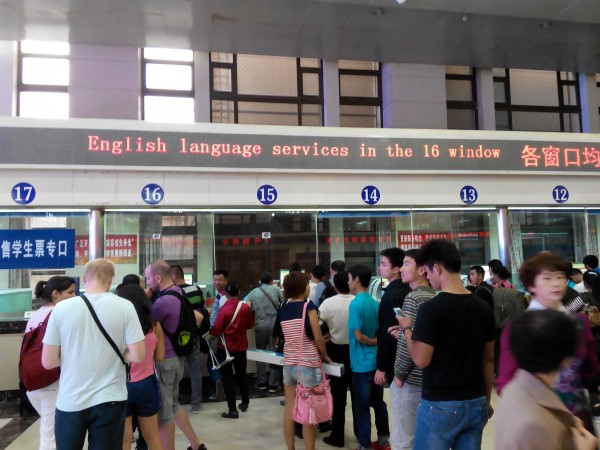 If passengers book train tickets online, there will be an confirmation number. To collect the paper tickets, passengers should show the passport and confirmation number to the working staff in the ticket window. Then they will print out the paper ticket for passengers. Passengers could take the ticket and passport to board the train. The photocopy of the passport can also be used for collecting the ticket.
Note:
1. Make sure you arrive at the right train station. There are usually more than one train station in big cities.
2. Make sure you have your confirmation number and passport. Otherwise you cannot get your ticket.
3. If you want to print out the ticket at the train station at the departure date. It is suggested that you arrive at the train station at least 2 hours before the train departs.
4. There are English window for foreigners at the train stations in big cities. For small train stations, it seems difficult to find someone speaking English. Therefore, it is best to write the confirmation number on a paper and show it to the working staff.
5. Once you have printed out the paper ticket, you cannot change or return the ticket online. You can only change or return the ticket at the train station by yourself.
6. Train tickets can only be changed or cancelled before the train departs. Even if the passenger did not take the train, he cannot have the refund without cancelling the ticket. It is different from airline tickets.
We 
ChinaTour.Net
 offers a reliable online train booking service. We have
Train Schedules
in English. It will be very easy for you to find your target train. Then, we will book the tickets for you. Only a few service fees charged.
Book a Train Ticket
Related information about train travel
How to Buy Train Tickets in China?
China Train Tickets and Seat Classes
How to Buy Train Tickets for Children in China
China Train Tickets Change and Cancellation
Spring Festival Rush and National Day Rush
When is the best time to book a ticket in advance?