In most railway stations, you will find a lot of people in the waiting room,sometimes even crowded and noisy. Don't be shocked. It is very common in China especially on holidays.
There will be a dining cart with food, snacks, box lunch/supper travelling across the carriage. Passengers could have meals at their own carriage. Besides, there is a dining carriage  in the middle carriage of the train.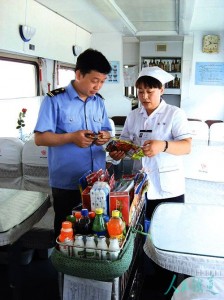 There are food selling on the train, however, most of them are more expensive than in the stores in city. So, it is best to buy some food for the train travel in advance. Chinese people often like to bring instant noodles, fruit and snacks on the train.
Hot drinking water is available on the train. You have to prepare your own cup. Or you can bring your own water.
Watch for your luggage and handbag and keep them in your sight when you are waiting for the train. Put the suitcase on the shelf when you board the train and take the valuable belongings with you. Pickpockets sometimes happen, but it is OK if you just be careful a little bit.
If you are in a hard sleeper or soft sleeper, after you board on the train, the working staff will check your ticket and change it with a sleeper card. You will have your ticket back before the train arriving at your destination.
The Spring Festival Holiday and National Day Holiday are the most busiest days for train travel. There will be so many people travelling by train. The train tickets are so hot that they will be sold out soon. Try to avoid train travel on the Chinese holidays.
We ChinaTour.Net offers a reliable online train booking service. We have Train Schedules in English. It will be very easy for you to find your target train. Then, we will book the tickets for you. Only a few service fees charged. Book a Train Ticket
Related information about train travel
How to Buy Train Tickets in China?
China Train Tickets and Seat Classes
How to Buy Train Tickets for Children in China
China Train Tickets Change and Cancellation
Spring Festival Rush and National Day Rush
When is the best time to book a ticket in advance?