China Train Luggage Allowance
It is allowed to take a certain amount of luggage for free for each passenger.
For adults: 20 kg
For children: 10 kg
For diplomats: 35 kg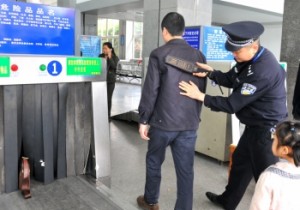 Volume
The sum of the height, width and length of the luggage is required to be less than 160 cm. The length of rod-shaped objects is required to be less than 200 cm.
Wheelchair of disabled passenger is allowed to take on the train and it is not count in the baggage weight limit.
It is prohibited to bring anything dangerous  on the train. There are limitations about articles for daily use.
Prohibited items
Items that are prohibited by laws and regulations.
Dangerous items, ammunition, unidentified chemicals.
Animals and items that do harm to public hygiene, including smelling items.
Items which will damage or contaminate the train.
Items that exceed the limitations.
Limited Items
The following item can be brought on board, but the amount of the items are limited.
Less than 5 gas lighters.
Less than 20 boxes of matches.
Items like enamel and hair dye, less than 20 ml.
Items like alcohol less than 100 ml.
Items like styling mouse, insecticide and air-refresher, less than 600 ml.
Less than 20 newborn poultices.
We 
ChinaTour.Net
 offers a reliable online train booking service. We have
Train Schedules
in English. It will be very easy for you to find your target train. Then, we will book the tickets for you. Only a few service fees charged.
Book a Train Ticket
Related information about train travel
How to Buy Train Tickets in China?
China Train Tickets and Seat Classes
How to Buy Train Tickets for Children in China
China Train Tickets Change and Cancellation
Spring Festival Rush and National Day Rush
When is the best time to book a ticket in advance?
Train Travel between Major Cities